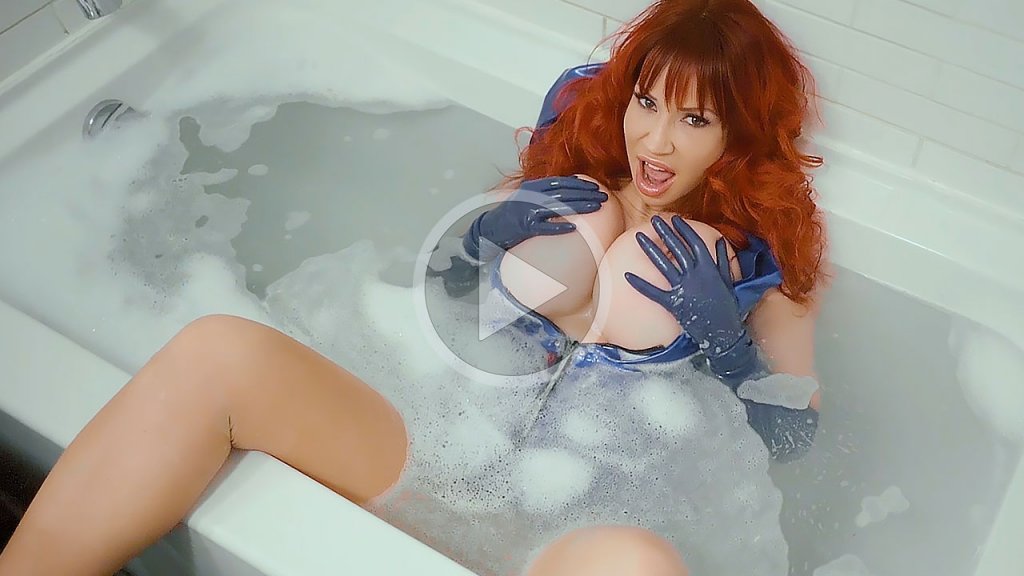 My "Foamy Fun" photo shoot that I did while I was spending some time in Germany was such a success that I thought I would repeat the experience to please your pervy eyes. Although I did not have a foam machine as the one Peter Czernich used for our photo session, it's surprising to see how little soap can actually go this far.
While I was wearing a blue latex catsuit for my shooting with Peter, this time for Martin that was conducting this set, I chose to wear my new metallic blue rubber hoodie mini dress. Yes, you read me correctly: this mini dress has a hood turning me into the little blue ridding hood 
If you paid proper attention, you have noticed that water is a recurrent theme in the photo shoots I displayed in my members zone. From the ocean, to waterfalls, to pools, to even showers and baths, water is definitely an element that I am drawn too, and that is since I was just a little kid. Maybe that's because I am such a fiery girl and water simply calms me down.
When I came across this lovely bathroom with this very nice and deep bath, I just knew right away that I had to do a bubbly & fun photo shoot in there. Feeling all the water dripping on my rubber was such a delightful feeling! I loved it!! I sure had a blast that day. An experience that I might actually repeat in this lovely bathroom.
Now. Who wants to see some wet sexy and rubber fun??
CREDITS:
Photos: Martin Perreault
Latex: Polymorphe
Location: Montreal, Canada
You need a valid subscription to view this post… JOIN NOW.