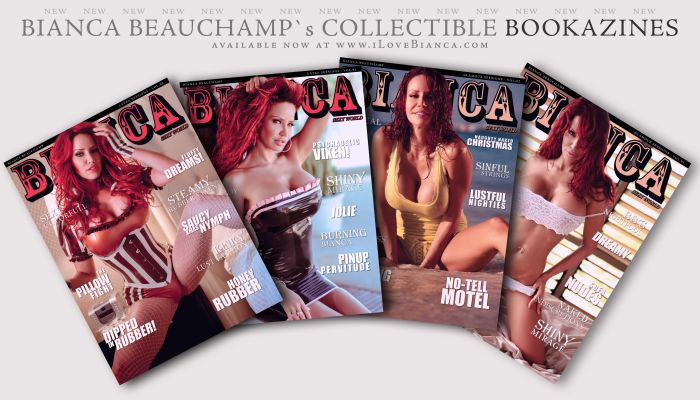 They are finally here: Bianca Beauchamp's brand NEW PHOTO BOOKAZINES, and they are astonishingly beautiful!
ENJOY THEM AT 33% OFF NOW!
"BIANCA" is a brand new series of large-format bookazines (9×12in.), featuring the sexy pin-up photography of International latex fetish icon Bianca Beauchamp. The books are divided into TWO COLLECTIONS:
1) BIANCA: LATEX SESSIONS
2) BIANCA: GLAMOUR SESSIONS.
Bookazine: "A publication combining elements of books and magazines."
LATEX SESSIONS volumes are published four times per year, and focus solely on Bianca Beauchamp's latex photoshoots. Each Volume features 9 highly erotic latex Photo Sessions.
GLAMOUR SESSIONS volumes are published three times per year, and focus on Bianca Beauchamp's glamour photoshoots such as bikinis, lingerie, wet 'n wild, and nudes. Each volume features 8 deliciously sexy Photo Sessions.
On top of the LATEX and GLAMOUR SESSIONS series of volumes, fans can expect SPECIAL EDITIONS derivative from the ongoing series, to be published twice a year. The Special Editions will be THEME oriented, and will contain photos not published in the LATEX and GLAMOUR series. More info on the Special Editions to be announced when the first one is made available, near May/June 2013.
BOOKAZINES SPECS:
– High Quality Print Color Photo Book
– LARGE SIZE: 9x12in (23cmx31cm)
– 74 pages/ea.
– Laminated Medium-Soft Cover
– All texts written by Bianca Beauchamp
– Glossy, thick quality pages.
– Carefully selected top photos approved by Bianca Beauchamp!
– Contains some never before seen Behind The Scenes photos.

– 18+ ONLY! Contains FULL FRONTAL NUDITY.
– NO ADS IN THE BOOKAZINE!
COLLECTIBLE VALUE:
Fans can request a personalised autograph from Bianca, along with an Official Collector Emboss Seal with an extra fee. Customers who purchase a pack of 4 bookazines will get a substantial rebate both on the individual bookazines and on the autograph/seal.
ENJOY the new collection at 33% OFF NOW!