New iLoveBianca.com STORE Design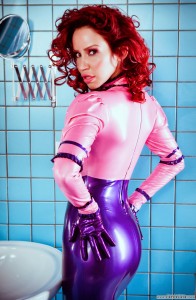 Welcome to Bianca Beauchamp's NEW ONLINE STORE!
Recurrent Bianca visitors will notice that her store is now completely revamped.  We've put a lot of time and effort in the creation of this new store, to offer you, Bianca fans, a better shopping experience.  We hope you will enjoy the new design, products, and functionalities such as Social media Logins.
CUSTOMER ACCOUNTS:
Moving to a new Store architecture also means that all previous clients accounts were deleted, which means, if you are a returning customer, you will need to re-register on the store for your future purchases.  To that effect, you may want to use your favorite Social Network such as Facebook to accelerate the login process, or you can use the regular registering process to create your new username and password.  Note that in either case, you will need to re-enter your billing address and your shipping address (if different than billing).
ZAZZLE PRODUCTS:
You'll notice a new section in our Products called ZAZZLE PRODUCTS.  All Zazzle Products are "print on demand" products we now sell through zazzle.com website.  By using their service, it allows us to offer you a wider variety of Bianca Beauchamp products.  Note that when purchasing products from our Zazzle section, you will be transported to the Zazzle.com website where you will be proceeding with your order on their server.   This means that you wont be able to combine zazzle products with prodocts offered locally on Bianca's Online Store (www.ilovebianca.com), as those orders will need to be separate from each other.
MORE PRODUCTS TO COME:
We will be adding more products to our inventory in the next days & weeks.  Notably, more 13×19 posters will be made available.  Also, Bianca updates her offerings in the Memorabilia Section on a regular basis.  We invite you to stay informed on all our latest products by Subscribing to our RSS EMAIL.
Thank you for your ongoing support!