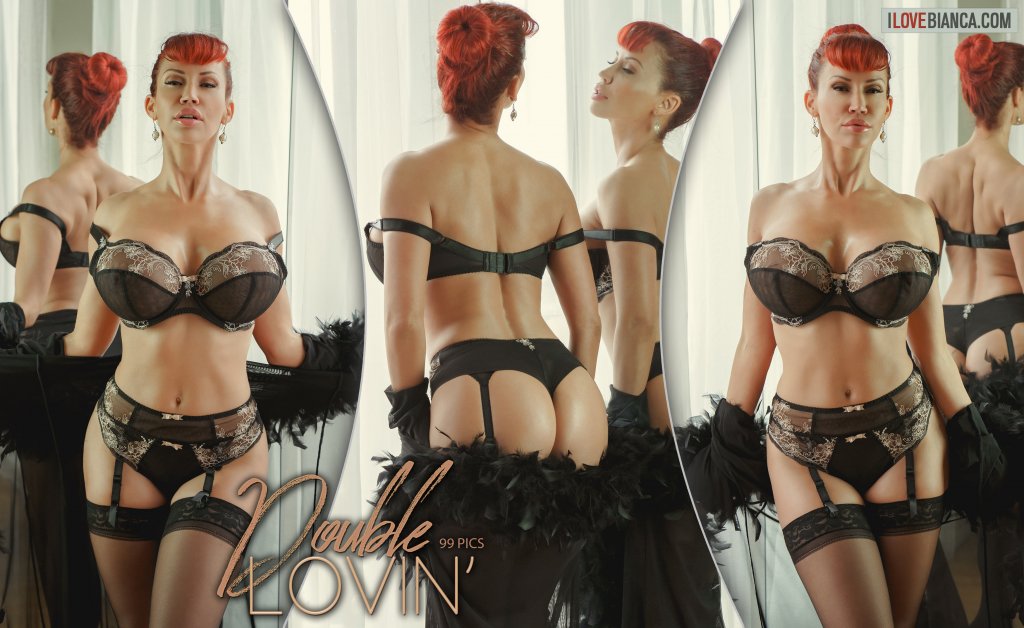 Something I lately tried during one of my "Dress-Up Games" photo shoots and wished to do it all again very soon was to model in front of mirrors. You have to know that this is not as easy as it sounds simply because sometimes the reflection cast more than the model itself. If not shot at the proper angle, the photo might also display photo equipment, the photographer and even the rest of the crew on set.
But fear not my pervy friend as this was not my first drill and at IloveBianca we are true pros for making your fantasies come true!
And in this very next fantasy, I'm giving you now two Bianca's! Yeah baby! You can't have enough of me? Well let see if you can handle two thanks to the mirrors on my wall, you will not only get aroused by my super sexy boobalicious front view, but also by my buttalicious side. All at once!
And for my lovely double moment with you, I chose to wear my fancy sultry black & white lingerie that includes a garter-belt and stockings as well. I don't know but lately I'm feeling more comfortable with the shape of my legs and hips and so I wanna wear stay-ups stockings more often. :-D
So get ready to get seriously turned on as I reveal some more of my lady parts and delicious apple butt in this set. When I'm looking back at some of the photos now, I'm a little blushing! My butt cheeks are spread opened in some of these shots :-p
But you'll see soon enough yourself. And as for now, there is only one last thing to say: Mirror mirror on the wall, who is the fairest one of all? …. :-p
CREDITS:
Photos: Martin
Location: Montreal, Canada