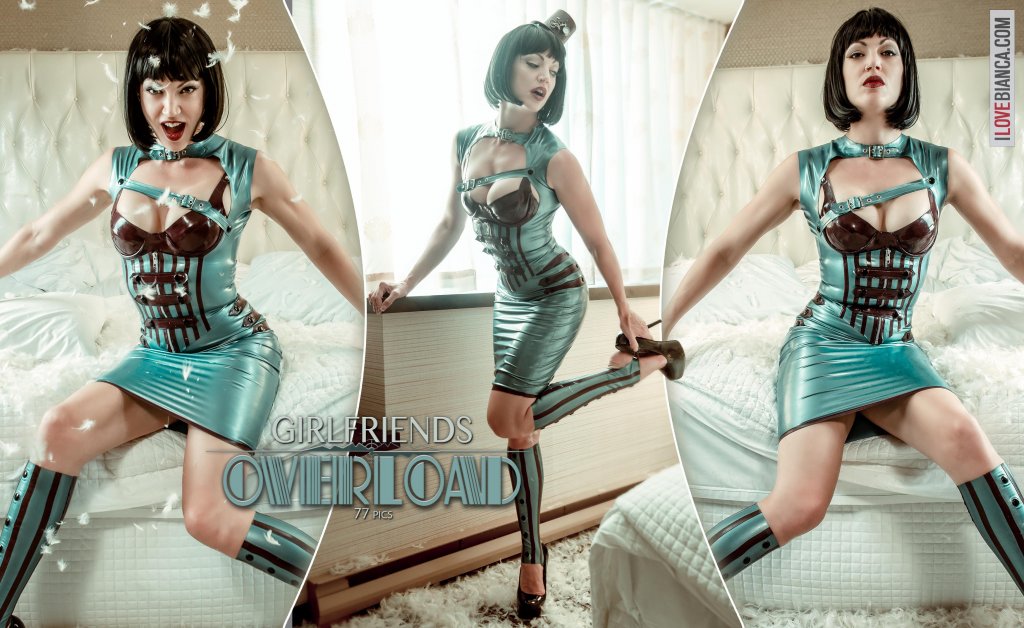 Sometimes fans ask me what is it I love the most of being a latex & erotic model so here's a TOP 5 REASONS why it is so worth it to have devoted those past 19 years of my life to my passion of modeling:
1) I openly live my fetish and kinks without hiding or even caring for people's judgments
2) I travel to exotic and lively places around the world, attending kinky fetish events and/or shooting in exotic locations
3) I wear unique latex outfits made by talented designers
4) I do creative photo shoots & videos which makes me feel very proud of myself
5) I meet interesting people and also I become friends with other fetish models which I highly respect
In this next photo set, all of these points are regrouped except perhaps no3 as this photo shoot is dedicated solely to my sexy girlfriends and models that I have met in the U.K or in Montreal for two latex photo shoots for the latex designer Westward Bound.
I might not take part in this set directly, but I was present during the shoots to enjoy the show, and I joined in later for "The Pillow Fight" photo shoot already published in the member's zone. This time, I wanted to give the full focus to my sexy girlfriends Jean, Jade, Jasmina, Psylocke and Lacy Black and it was certainly a fun show to watch. I'm telling you, that afternoon, the feathers and laughter were flying all over the room!!!
And as for my new dearest friend, cutie Romanie Smith, I had the chance to finally meet her while I was in the U.K in Manchester to attend Sexhibition event. Based in London, Romanie took the train all the way up to not only meet me but also to shoot with me both sexy fashion & heavy rubber latex clothing (The Shiny BFF, Fun Girls). And she modeled as well for Martin some single shots while I was getting prep and I now I am pleased to share them with you.
So what do you think: are these lovely ladies making your heart skip a beat or what?!! I'm curious to know which one is your fave. Perhaps you can write it down in the comments box of this photo shoot.
Now enough of reading this and enjoy these ladies!!! :-P
Credits:
Photos: Martin Perreault
Latex: Westward Bound
Models: Romanie Smith, Jasmine Virginia, Lacy Black, Jade Vixen, Jean Bardot, Psylocke
Location: Manchester, U.K