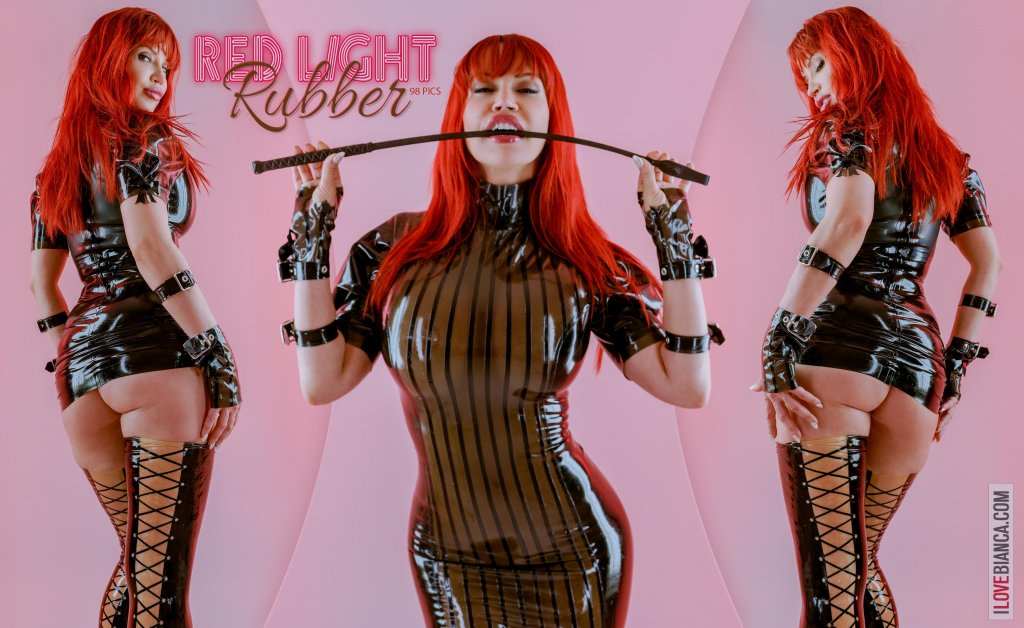 Beware my pervy friends as Dominatrix Bianca is back and she means serious business… or should I say naughty business?! :-p For this photo shoot spiced up with a twist of dominant vibe, I chose to go with a different look than the classic catsuit, corset & boots simply because isn't it just fun to try new things?! :-p
Don't get me wrong, I looooooove wearing catsuits of course but I came up to realize that in the past I rarely have sported a more dominant look than while dressed up with a short latex dress. Actually, now that I think about it, I'm not even sure I've ever done it for a shoot… (let me know in the comments area if you find a should that can contradict me!
) And lucky for you and me, it happened that I just had the perfect sexy dress to make my vision come to life.
So one afternoon I felt kindda raunchy, I thought I would give it a go. I put on my new smoky black transparent short mini dress with high neck collar, dressed up my legs with black latex thigh high stockings and held my ridding crop tight in my hand.
While I was starring back at the camera lens as proud as a queen can be, I imagined you watching me, waiting for my command to make you submit to my womanhood and my kinkiest fantasies.
So what do you say? Wanna behave and kneel before me my minion? Don't worry, I will be gentle…that is if only you deserve it.
Muah hahaha :-D
Credits:
Photos: Martin Perreault
Latex: Westward Bound
Location: Montreal, Canada