STORE: Heavy Rubber #11 at 50% OFF!!! Limited time only!
Latex fetish icon Bianca Beauchamp  in Heavy Rubber #11 discounted 50% OFF on her online store!!

Get your hands on the very few copies left of Heavy Rubber #11 on which Bianca appear on its cover. Until next week (nov19th 2012) the magazine is discounted at 50% Off!!*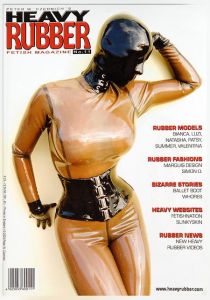 Historically, this is the 1st. and only HEAVY RUBBER Cover for Bianca Beauchamp. Issue was on stand in 2005. The magazine contains a report on Kink in The Caribbean's event where the cover photo of Bianca Beauchamp was shot. The report contians 3 heavy rubber photos of Bianca Beauchamp in latex. The last page of the issue is a full page add for Kink in the Caribbeans and features Bianca Beauchamp in her sexy  blue latex catsuit.
* christmas coupon 25%OFF may be addition-ed  on top. Coupon code: "biancaxmas"